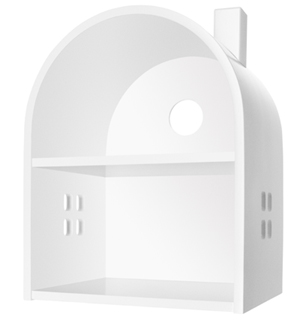 Wow, look what I just found at Noojii, the baby gear shop DT reader Sven runs in Hamm, Germany [midway between Dusseldorf and Hannover]: a Playsam dollhouse by Swedish designer Eva Schildt.
At just 30 cm high, the dollhouse is scaled to the little knobheads who drive Playsam's cars. Schildt's concept studies include a black house, plus a few pieces of high-lacquer furniture. But at the moment, what you see--white and empty--is what you get.
The trick is getting it. Noojii has the dollhouse in stock for EUR99, including VAT. I don't know if Sven's in a shipping mood, but you can always check.
Otherwise, Playsam sells everything directly from Sweden. Without VAT and with shipping, the dollhouse clocks in at USD174. A bit steep, but that curb appeal...
playsam dollhouse, weiss, EUR99 [noojii.de]
Shop Playsam [playsam.com]