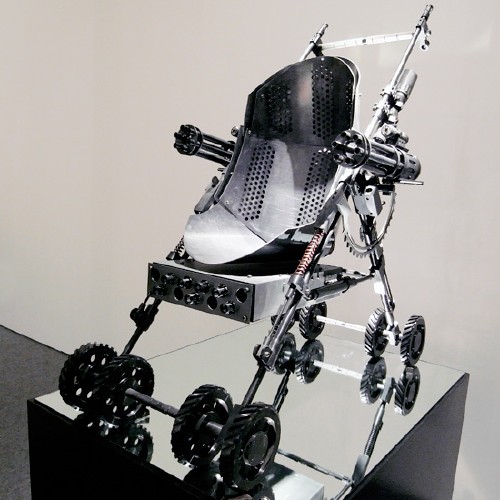 And to think that just a few weeks ago, we were getting all worried about a few stroller fingertip amputations.
In 2006, the Chinese sculptor/new dad Shi Jinsong showed Na Zha Baby Boutique, an "outrageously unsafe line of baby products" named after Na Zha [or Ne Zha, 哪吒] a troublemaking man-child Chinese deity who is now the god of lotteries.
The original collection featured baroque strollers, a carriage, a walker, and other toys made out of Kung Fu-Klingon-style curved knives. For this season, Shi has upgraded the Na Zha firepower, illustrating the difference between unsafe and deadly: now everything's outfitted with machine guns and rocket launchers.
Designboom snapped a full gallery of Shi's latest baby gear arsenal at a survey exhibition of Chinese contemporary art at Palazzo Real in Milan. It all falls somewhere between Giger, The Matrix, and Alien vs. Predator Meet Jason. And I'm sure everything but the babywalker's JPMA certified.
shi jinsong gun shape baby carriage [designboom via dt reader sven]
Na Zha Baby Boutique, Feb. 2006, Shi Jinsong [chambersfineart.com]