How can a country like the UK have so many surveillance cameras and government databases, and yet keep such incredible secrets from me?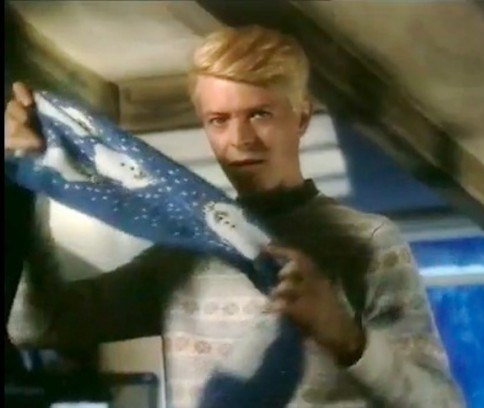 On Christmas Eve 1982, the newly formed Channel 4 premiered The Snowman a wordless, beautifully animated version of Raymond Brigg's 1979 children's story of a snowman come to life. It is apparently a British Christmas classic now?
[The Snowman was directed by Dianne Jackson, who had been the animator on The Yellow Submarine.] Introducing The Snowman, in full-on "meet the parents" drag, was none other than David Bowie. [If you're marking your Bowie Timelines at home, Christmas 1982 was after "Under Pressure," his collaboration with Queen, and just before his stack of major US hits on Let's Dance.]
But a heartfelt, 90-second, Christmas scarf cameo was only part of Bowie's 1982 Christmas Blitz, kids. RCA also finally released his duet with Bing Crosby, "Little Drummer Boy/Peace On Earth" as a single; by Christmas Day it reached #3 on the UK charts.
The song, of course, was recorded back in 1977, for what turned out to be the last of Crosby's annual Christmas Specials. The only thing more surrealarious than this pairing--of the Glam, alien, recovering addict chatting about his 6-yo son's favorite Christmas carols with the doddering, conservative disciplinarian--is seeing the two David Bowies side by side under the tree.
Bowie for Young Parents [fantasticman.com, thanks dt reader cs]
The Snowman - Part 1, Part 2, and Part 3 [youtube.com
Buy The Raymond Briggs' The Snowman on DVD for around $9 [amazon]