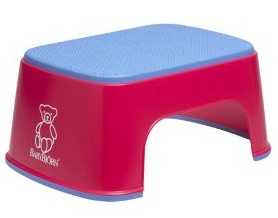 K2 is now actively looking for trouble. She is casing the joint. She wanders the house with her stool pressed to her chest, scouting out things--jewelry, watches, medicine, iPods, remotes, pipe cleaner unicorns, modeling clay unicorns, unicorn drawings--that have been deliberately placed out of her reach.
Then she'll plant the stool and get ready to strike. If you look at her at just that moment, you'll see she's looking right at you, too. Thus busted, she'll pick up the stool without a word and move on.
We don't have eyes and shelves and counters and cupboards high enough. We are doomed.