So what could be better at an illustrated book auction than five children's books with drawings by Andy Warhol? Glad you asked.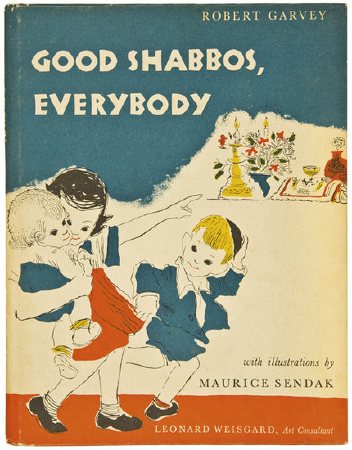 Lot 308: Good Shabbos, Everybody, published privately in 1951 by the United Synagogue Commission on Jewish Education, which features the first children's book illustrations of a 23-yo FAO Schwarz window display designer named Maurice Sendak. [Sendak's first book illustrations appeared in Atomics for the Millions, a textbook published in 1947.] With an estimate of $800-1200, it'd make an excellent, pricey Hannukah gift. [Or you could buy a copy at Amazon for $225 and pocket the difference.]
Lot 252: Tomi Ungerer, ink drawing for an exhibition cover, est. $1000-1200: This is 6x9 drawing from 1965/66, done for the Children's Book Show, would frame up right nice. Hang it over her bed, and the kid will never ask for "just one more story pleeeease" ever again.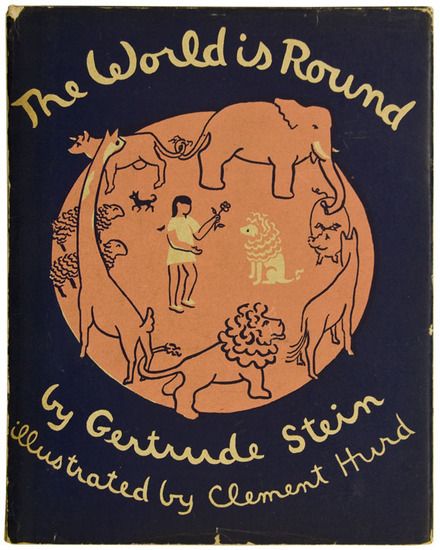 Lot 352: The World Is Round by Gertrude Stein, illustrations by Clement Hurd, est. $700-1000: I've never seen or bought it, but this is one of my favorite kid's books ever, just on principle. I mean, come on, how could you top the oddball combination of Gertrude Stein's undiluted avant-garde text and Clement "Goodnight Moon" Hurd's drawings? Thank you, Margaret Wise Brown, for bringing these two together.
This is the 1939 1st trade edition, and it looks pretty decent. Personally, until I get one of the 350 limited edition copies, signed by both Hurd and Stein--or the 1986 box set which includes a Gertrude Stein balloon, now $200 less than it was three years ago!--I'll just make do with one of the many reissued versions.
Dec. 9, New York: Original Illustration & Fine Illustrated Books auction [bloomsburyauctions.com]
Shop for Gertrude Stein and Clement Hurd's The World Is Round, starting at $1 [amazon]