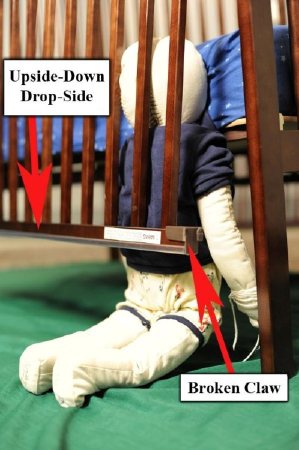 DT's favorite crib guru Scott said it would be big, and now we know just how big the biggest crib recall in history really is: it's as big as the whole freakin' North America, that's how big.
The CPSC and Health Canada jointly announced a recall for 2.1 million drop-side Stork Craft cribs because of a threat of suffocation and entrapment. Four children are known to have suffocated in the gap between the dropside and the mattress.
The recall covers cribs sold between 1993 and last month [!], at all kinds of retailers on- and offline: 1.2 million cribs in the US--including 147,000 cribs sold under the Fisher-Price brand--and almost 1 million cribs in Canada. [Stork Craft is Canadian.] Crib owners are warned to check the drop-side hardware for wear, damage, and correct installation, and to not use the dropside feature until they receive a repair kit from the company.
Anyway, the whole drop-side crib thing is apparently coming to a head, no unfortunate pun intended. The earlier CBS News story this morning says the CPSC chair Inez Tenenbaum is pushing to replace the baby industry's voluntary crib safety standards with strengthened federal regulations.
JPMA, the baby industry trade group, is pushing back and/or covering their asses as well as they can, considering that the standards regime they have lobbied so hard for years to preserve has been thoroughly repudiated by recent recalls of millions and millions of cribs and bassinets, all of which bore the proud "JPMA-Certified" seal of approval.
In a carefully worded resonse to the recall, they tried to simultaneously implicate the CPSC and the media for causing "confusion," and parents for assembling their cribs wrong:
To alleviate confusion that is in the media regarding the recently announced recall of certain drop-side cribs, the Juvenile Products Manufacturers Association (JPMA), the not for profit trade association that promotes infant safety and the development of recognized ASTM International product safety standards, reassures the public regarding the safety of properly used, drop side cribs.

All new cribs on the market today must meet minimum government requirements. In addition, there are consensus performance standards, which are established by ASTM with involvement of the government and recognized experts, to which JPMA certifies cribs and other durable infant products. JPMA also reminds parents and care givers, that when you assemble a crib to the manufacturer's instructions and use it properly, a crib provides the safest sleeping environment for baby.
Emphasis added to show my love for the way JPMA tries to grab hold of the CPSC as its "voluntary" standards sink into the deep.
I wonder how many more sweeping recalls it will take before the baby industrial complex decides that there is, in fact, a new sheriff in town. I wouldn't want to be in the crib bumper business right now.
Infant Entrapment and Suffocation Prompts Stork Craft to Recall More Than 2.1 Million Drop-Side Cribs [cpsc.gov]
2.1 Million Cribs Are Recalled in U.S. and Canada [ap/nyt]
Massive Crib Recall Set, Sources Say [wcbstv.com via dt reader scott]