I know I should wait until after Thanksgiving, but I can't. It's a DT Nov. 21 tradition! Take a look at some of the Muji Xmas 2009 Awesomeness--that is only available in Japan: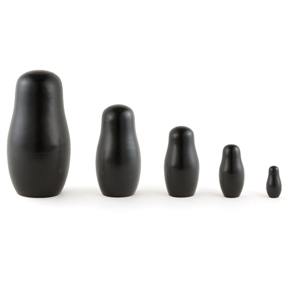 Blackboard matryoshka dolls, chalk included, Y1200.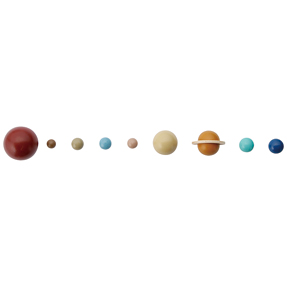 Wood solar system magnet set, Y600. Small enough and candy-shaped enough to kill your little planet-devouring mini-Galactus, so watch out.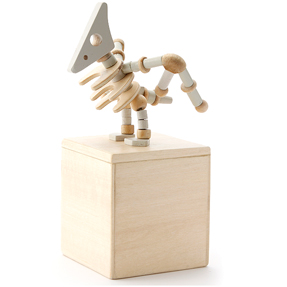 Pteranodon dancing music box, Y1200. Am I reading that right? It dances as it plays "Bolero"? Nice to see they're keeping the weird alive.
Wood volume ratio puzzle blocks, Y1200. Yes, teach your kid volume using completely wrong-sized blocks.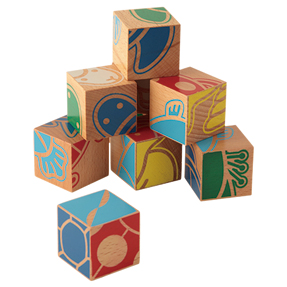 sweet picture blocks, Y1000. For ages 5 and up? Couldn't they round the edges at at least bring it down to 3 and up?
O Holy smokes! Check out these awesome paper clips! Y499/pack.
Airport In A Bag, Y1,200. There's no bigger fan of the "____ in a bag" series than me [except for that Space in a Bag set we bought, which all fell apart in like a day], but the concept seems to be wearing a bit thin. Also, these pieces are tiny, fussy, and chokeable.
North Pole in a Box, Y1500. There are three of these sets right now, which each fold up into a little wooden box. Very nice, reminds me of the wood pieces in that vintage Unicef eskimo toy set no one seems to know anything about.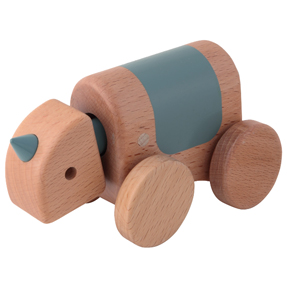 Wobbly Rhino, Y600. Finally, something you can't get for a little kid.
Muji Xmas 2009 Campaign, in Japanese but fairly surfable [muji]
Here's an English Xmas 2009 minisite [muji.com]