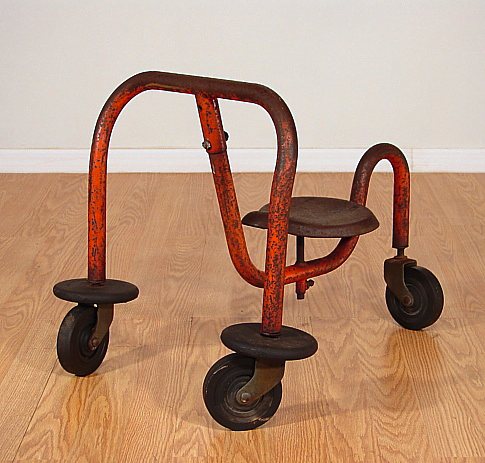 Wow, this looks incredible. Vintage industrial kid gear.
The Fageol Walkee Tricycle takes its name from its inventor, Christopher Walkee. Haha, no. William B. Fageol and his brother Frank built the first bus. Their company, the Fageol Motor Company, in Oakland, eventually became Peterbilt. Before then, though, the Fageols had already moved to Kent, Ohio, where they created another bus manufacturer, the Twin Coach Company, and eventually, the Fageol Walkee Tricycle Company.
The seller of this awesomely hammered rustbucket of a Fageol Walkee dates it to 1938, but William Fageol's patent application for the Walkee is only dated 1945, and the patent wasn't granted until 1947. I can understand if the war put the Fageols' steel trike-building dream on hold for a few years, but these dates seem hard to reconcile.
Industrial Machine Age Fageol Walkee Bike Tricycle 30s, auction ends Nov. 17, first bid $49+35 s/h [ebay]
Wheeled Vehicle for Children, no. 2423590 [google patents]