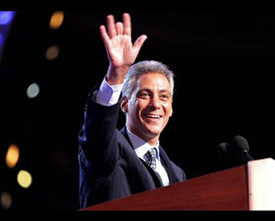 Wow, I miss one day of blogging, and suddenly Park Slope has turned into the hyperventilating headquarters for Maclaren's Rahm Emanuel Appreciation Society:
"There's swine flu and Maclaren strollers," said Dara Kass, a mother of two, as she prepared to order at a Starbucks on Seventh Avenue.

...

But some Park Slope parents also said that the worries were overblown and that safety with strollers required little more than common sense. Several said they would continue to use their Maclaren strollers as they always had, and others said they were not even planning to register for the protective shield.

Most of those parents then asked that their names not be published, out of fear that they would come across as bad parents.
Oh, don't worry, we'll know who you are, just by glancing down at your hinge cover-less strollers. How long before they come out with hinge covers in trendy designer fabrics, or with reflectors you can spot coming from halfway across Prospect Park?
Did someone say trendy?
"It's sort of a chic thing," Brigitte Prat, owner of Lulu's for Baby, a baby boutique on Fifth Avenue, said of the stroller. "It hit the market at the perfect time, and now it's the stroller to get."
Yes, there's never been a better time to buy the stroller whose unchanging design has been popular with New York yuppie parents for over 25 years. Says the woman in Paranoid Heights with giant stack of Stella McCartney Fall09 Maclarens in her basement.
Stroller Recall Stirs Unease in Park Slope [nytimes.com]