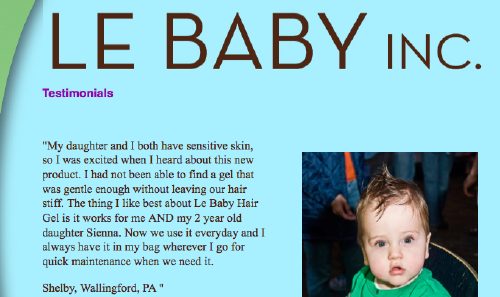 I've seen it, usually at church in the hinterlands, or at non-urban weddings. So I know what I'm talking about. Hair gel for babies. "Giving kids some cool style." Needing some "quick maintenance." No. Nada. Nunca. Niente:
Great at home or on the go, Le Baby Hair Gel is a must have for every diaper bag. Whether headed to a play date, grandma's house or birthday party, moms can create fun hairstyles and keep their kids groomed with a product they can feel good about.
No one needs hair gel until he or she is a hopelessly awkward teenager. So drop that tube.
Le Baby Inc, hair gel for babies and kids and other people who shouldn't have hair gel [lebabyinc.com via dt reader catherine]