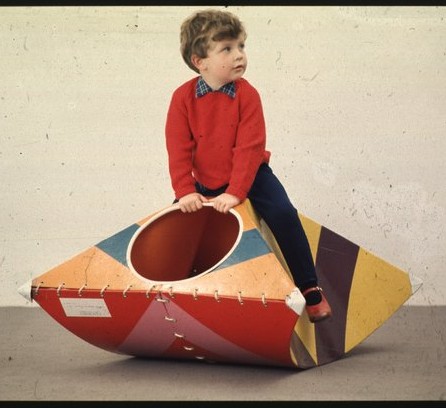 No sooner is one vintage kids design mystery solved than another takes its place. The British Design Council has published its slide collection online, including this rather awesome-looking "child's rocking play fixture," which uses the same special, NASA-designed bend-into-shape technology that goes into McDonald's french fry boxes.
The caption doesn't mention a designer or manufacturer at all, just that the rocker was exhibited in Haymarket in the summer of 1979.
Which may have been a retrospective--or else it took 11 years to bring this thing to the market--because I just found it illustrated in an article titled, "Play prototypes for under-fives" in a 1968 issue of Design magazine.
The designer was John Millns, then a student at the Leeds College of Art. If you Google him, you get--hmm--this photo of a rocker prototype from 1968.
Design Council Slide Collection [vads.ac.uk via thingsmagazine]
"Play prototypes for under-fives," Design 1968[vads.ahds.ac.uk]