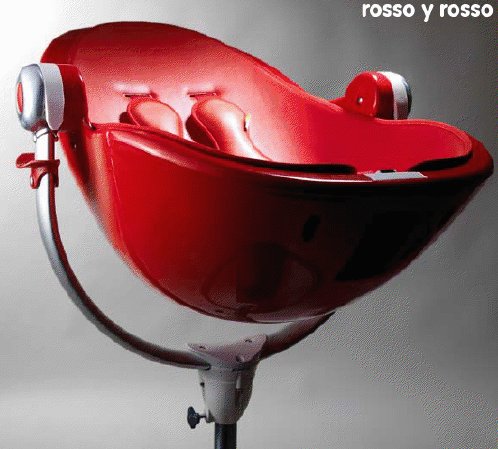 I know that since the rather spectacular limited edition, red-enameled Fresco Fiamma high chair was introduced like three weeks ago at ABC Kids in Las Vegas, I'm a bit late to the Bloom game. To make up for it, I'll teach you the Italian word for high chair: Seggiolone, just like the film director. Now you'll never forget it.
I'll also point out that in addition to coloring the hell out of a high chair, the bloom folks sure can write a dad-savvy press release:
bloom launches the 'ferrari' of baby chairs with its new fresco fiamma limited edition

to celebrate bloom's 3rd birthday, the four designer dads behind the bloom brand have created the limited edition, fresco fiamma. [emphasis added]
Buon giorno, boys!
Fortunately for bloom, the actual Ferrari is not involved in this chair in any way. Whatever else they may be, Ferrari is the Pontiac Aztek, the Yugo, the rusted out Trabant of merchandise licensing.
The Fresco Fiamma was produced in a numbered edition of 1,100 and is available through Genius Jones, Giggle, and "other Bloom-preferred stockists" for a fistful of 600 dollars. [bloombaby.com via publicists]