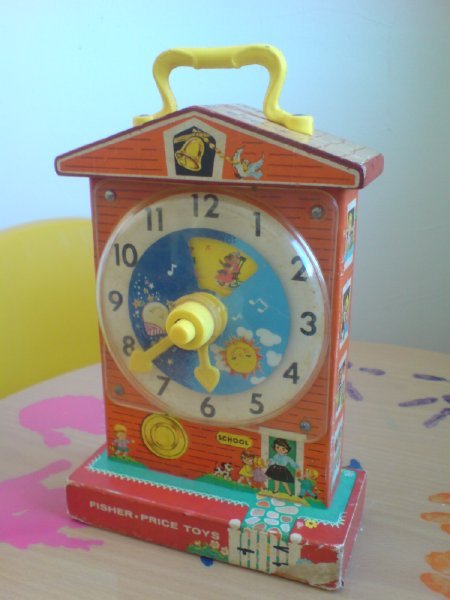 The Fisher-Price Teaching Clock I had as a kid is long gone, but the kid honed right in on Joel's yesterday at the flea market. She bought it for ten bucks. [I know, but I wasn't planning to teach her how to haggle until next week.]
When I looked online to see how bad we was robbed [eh, not too bad.], what do I find, but Fisher-Price Classics. It looks as if they've reissued throwback replicas of the clock. And that awesome/annoying Chatter Phone ["this is what phones looked like when Daddy was little, honey."]. And that xylophone's coming out in a few days.
But waitasec. F-P has been touting the nostalgic charm of the Chatter Phone for years; and that xylophone looks like plastic, not wood. But the kicker is the reissued Teaching Clock which, according to the Amazon comments, is not wood, either, but a shabby piece of plastic junk, manufactured by a now-bankrupt licensing outfit called Sababa Toys. Supposedly, it doesn't even have the tick-tocking sound anymore.
I would totally make this my ringtone, except that if K2 keeps playing with the clock this much, I'll never know when my phone is ringing.
Fisher - Price [sic] Classic Music Box Teaching Clock, supposedly $25 [amazon]
But Fatbrain says MSRP is just $16.50 [fatbraintoys.com]
Oy. Just track down the original Fisher-Price Teaching Clock on eBay for $10 or whatever. [ebay