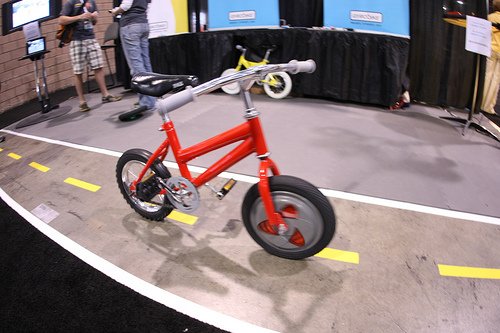 The old way to teach a kid to ride a bike was training wheels, of course, and the new OG way was on a pedal-less walking bike like a Like-A-Bike or one of its many knockoff/competitors.
Now there's a new new way rolling all by itself over the horizon: the Gyrobike Gyrowheel. It's a front wheel containing a battery-powered, variable-speed wheel spinning inside, which gives the bike as much stability as the kid needs.
In BikeCommuter.com's interview at Interbike a couple of weeks ago, the Gyrobike rep said they'd already taught 100 kids to ride, which should give you some sense for how far along they are in the product launch process.
Or you could, you know, read their website [12" wheel set for Dec. 1st]. Then just go lie down in the middle of the information superhighway by signing up for their email list, Facebook, Twitter, and YouTube channel, and wait for the Gyrobike announcement juggernaut to roll over you.
The Gyrobike [thegyrobike.com]
Gyrowheel By Gyrobike [bikecommuters.com via dt reader rtm]