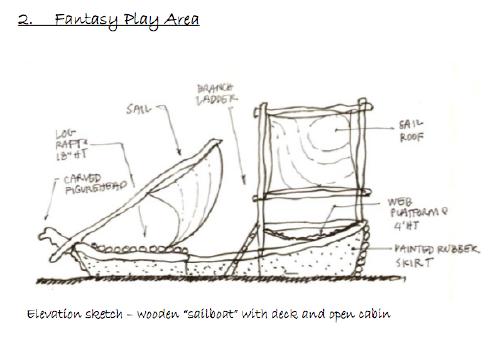 Thank you, Cambridge! Finally, the days of boring, namby-pamby playgrounds designed by product liability lawyers is are [oy. should never have laid off my Harvard-trained copy editor. -ed.] OVER!
They build them like they used to in Cambridge, Mass., and by that I mean like they used to before they used to. Concerned parents and community leaders mobilized to replace a pressure-treated wood playground because of all the toxins or whatever the lumber industry's been sticking in there all these years.
The new Kemp Playground is full of OG awesome toys that let kids climb and move stuff--and get stuck in. Over the weekend, fire fighters were called to free a 3-year-old boy whose leg got wedged in between two boards of the pirate ship. The boy was not injured. Whether he got to climb on the fire truck afterward was not known.
Sept. 24: Cambridge Common now home to revamped play area [wickedlocal.com via dt sr freakout correspondent sara]
Sept. 29: Boy gets leg caught in toy pirate ship at new Cambridge playground [wickedlocal]
Coming Oct. 7: Join us for a celebration of the new playground! 4:30 - 6:00 pm, Light refreshments will be served. [cambridgema.gov]