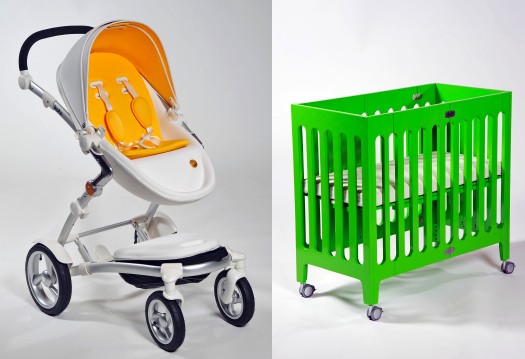 Well, the huge Kind + Jugend kid gear expo is finished in Cologne [stay tuned for a quick photo roundup]. A couple of the Innovation Award winners stood out--actually, Maxi Cosi's Innovation Award for its line of car seats that's been around longer than either of my kids stood out, but that's not the point here.
Anyway, congratulations to Bloom Baby, which won an Innovation Award for their Alma folding crib, and to Mima, hello! "a new european juvenile product brand" [from Spain, actually] which is kind of blowing my mind with their slick, sleek strollers. The Kobi [pictured above] actually converts to a double by stacking--like a Phil & Teds, only podlike. Felipe y Teodoros? This requires some investigation. [thanks dt euro gear shark jan of loopfietsfabriek.nl]
Mima Kids [mimakids.com]
Bloom Alma folding crib [bloombaby.com]
There's a closer look at the Mima in double mode after the jump:
1. The frame's the same. Like Bugaboo, it appears you switch from carrycot to seat by swapping out fabrics. Which would make that podlike shell part on back fabric, too. Indeed, the website says it zips on, so it's some molded fabric/foam laminate, using next-generation bustier technology.
2. Yes, the shell on the bassinet is obviously fabric, too. Hope they tighten up QA.
3. Not chrome for chrome's sake. Cantilevered knee joint needs shiny steel reinforcement.
4. Weird screw/latch/snap thing on top of seat? I guess it's for the canopy.
5. Comically small storage net.
6. Fender blocks view not very elaborate-looking suspension.
7. Graco-looking footbrake. It's almost like the R&D budget ran out before they reached the ground.
Mima's Spanish, but looking at the details, I'm thinking this design is from China. UPDATE: And I'd be wrong. Davy Kho's Dutch and living in Spain and spent several years there working on the stroller design.
Yep. Mima's a pop-up company. They only commenced operations and registered for their trademark in June. So this stroller was not conceived or born in Valencia.
The guy who incorporated Mima is named David Chua Nhan Kho, so, maybe we have our first award-winning stroller Actually By Vietnam?