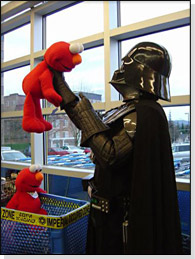 From Daily Finance, the money vertical/portal section of AOL's content strategy v8.0:
Elmo, Sesame Street's most giggly spokesmonster, is going through some tough economic times. His mommy has lost her job.

Elmo's daddy is still working. (Note: A Sesame spokeswoman tells me their names are Louie and Mae. I and many Internet sources called them George and Gladys.) But because money is tight, the family will have to cut back -- eating meals at home instead of at restaurants. A trip to the pirate amusement park is out, and movie night has become game night.
Wait, who what? Who cares about movie night when no one even knows who Elmo's real parents are?
See, George and Gladys were the names of Elmo's first/real/bio parents, who first appeared on "Elmo's World," during Dorothy the goldfish's flashback/memory of Elmo's birth. George and Gladys also happen to be the names of Elmo muppeteer Kevin Clash.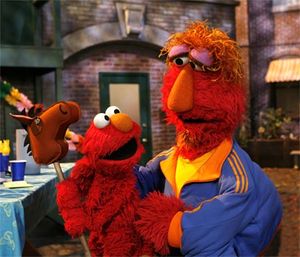 But in a canonical breach so egregious it'd get you fed to the sarlacc if it happened in the Star Wars universe, in the Sesame Beginnings DVD-for-babies, released in 2006, Elmo suddenly had entirely different, unexplained parents.
That "dad" is Louie, who was a hippie-dippie at-home dad at the time, and later joined the army in another 2006 DVD, Talk, Listen, Connect, which was created for military families dealing with a parent's deployment.
While Gladys is red like Elmo, his "mom" Mae in the DVDs is orange, which could make Elmo biracial.

When the name of Elmo's goldfish switched from Wiggles to Dorothy, there was apparently an episode explaining how Elmo was sad because his goldfish died. But it sounds like Sesame Workshop publicists are strongarming this "Louis & Mae" story, expecting everyone to just bend over and take it like a muppet.
Not on my watch, comrade. I demand to see Elmo's longform birth certificate.
Elmo so sad! Even happy, furry monsters can't escape economic downturn [dailyfinance.com via dt reader ck]
Meanwhile, the birther scandal's setting the net ablaze: It's An Outrage! [abunchofblocks]
Talk: Elmo: Elmo's Parents [muppet wiki]