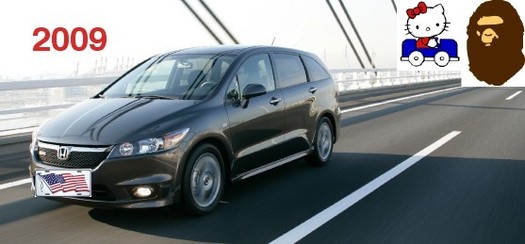 While I'm on the topic of mythical US Hondas, it's 2009, and I don't see a single Honda Stream anywhere.
In 2007, Winding Road said the sweet, CRV- and Civic-based, 6-8-Japanese-sized-passenger, mini-minivan was coming to the US in 2009. Then last year, they said it again, even though they still didn't know about engine or AWD options, only that it'd have two rows of seats, not three. So yeah, 5-passengers.
But wait, doesn't that overlap a bit with the Accord-based Crosstour not-a-wagon, which we know is coming? And then there's this: an unsourced, undated report from USNews & World Unsourced, Undated Reports that says there's no such plan. Too bad, because Japan is getting a redesigned Stream any minute now. Oh, look, they already got it!
Here's a 5-min. movie of the last two people in the world driving a Stream through the depopulated streets:
Previously, 2007: Cars You Couldn't Have But Soon You Can, Vol. I: Honda Stream Coming To The US
Never: NEW! JDM Honda Stream