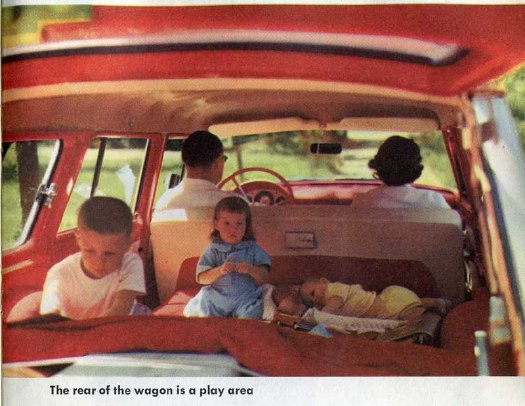 We're Ford country, y'all! This is so awesome, it's like someone slammed on the brakes, and I just got plastered by all the awesomeness bouncing around in the back of the Country Squire Wagon. Lash it down, people!
As the 1957 book that you must buy this second, Ford Treasury of Station Wagon Living, shows, a station wagon can easily hold everything you and the family need to hit the road and the campground in comfort and style. And if you outfitted the rear of your wagon as the play area, you can put it on top.
Even with 140 pieces of gear, and 1300 camptastic destinations, though, one volume was not enough to contain everything that makes Station Wagon Living so joyful; Ford had the authors, Franklin Reck and William Moss, put out a Volume 2 just a year later.
Beyond the ideal of a close-knit family embarked on a never-ending road trip of leisurely adventure together, the books depict a carefree parenting style--"turn the kids loose" in the back seat, then just use a cage to "limit the range of travel" when you leave them alone at the campsite--that'd get you locked up in about five minutes today.
What's most intriguing to me, though, is the symmetry between these corporate-sponsored camping gear catalogues--Moss includes his own just-patented paraboloid fly tent--and the classic how-to-build/where-to-buy practicality of Victor Papanek and James Hennessey's Nomadic Furniture and Nomadic Furniture 2, which came out in 1973-4.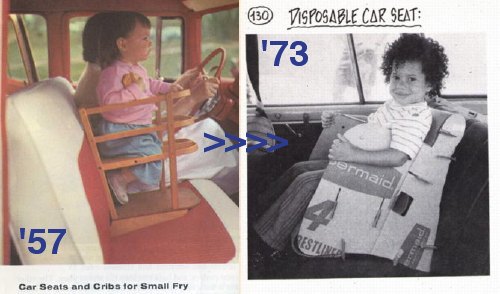 Do the math. The hippie parents hitting the road in 1973 with their portable hi-fi meditation cubes and cardboard car seats grew up sleeping in the Perambulator Penthouse rooftent their dad bought in 1957. Parenting is just Groundhog Day with more lawyers and different cuts of jeans.
Download the entire Ford treasury of station wagon living ([1957-58]) at the Internet Archive [archive.org via this awesome metafilter thread, thanks dt reader eric]
Knitting Iris kicked things off blogwise, by buying and scanning and enthusing over these books here [knittingiris via 10 engines]