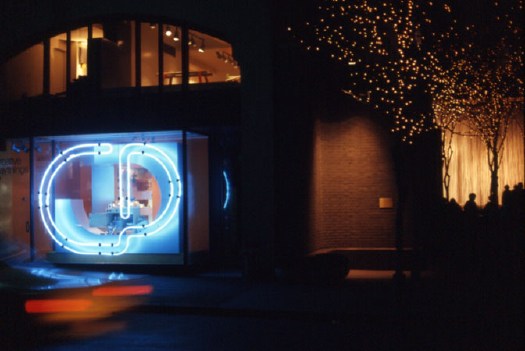 I'm trying to remember how I found my way to architect Lester Walker's website, but I don't have any trouble remembering what stuck there: the sweet, futuristic retail store that Studio Works designed for Creative Playthings in 1969. Studio Works was a new hotness, bi-coastal collaborative that included Walker, Craig Hodgetts, Keith Godard, and Robert Mangurian [who still works as STUDIO WORKS with Mary-Ann Ray.]
The store was located in the first two floors of 1 East 53rd St, next to the tiny/awesome Paley Park, named after the head of CP's corporate parent, CBS. It was a slickly lit space with giant, permanent block towers in the stairwell and a trippy play area in back where kids could climb on a geodesic playdome while chilling to the abstract, multiscreen, multimedia stylings [translation: three slideshows and a MOOG soundtrack?] of pioneering electronic music composer [and Cal Arts co-founder] Morton Subotnick and Broadway stage designer Jules Fisher.
Beyond the merits of this cutting edge, high-tech, retail entertainment design and the accomplishments of the people involved, the cinematic significance of the site itself demands better documentation than a screengrab of a microfilm of a newspaper photo:
For it was on this very spot, in the screening room that replaced CP's multimedia playground, on a summer night in 2002, that the first audience gathered for the first screening of the first filmblogger's first short film, Souvenir November 2001. Or a rough cut of it, anyway; I hadn't nailed down the audio mix by that point, but people were nice enough not to point that out. Also, I guess I didn't think to have a camera there that night. Sorry, historians!
Lester Walker Architect [lesterwalkerarchitect.com]
A Toy Store Designed So That Children Can Play in It [nyt, 10/21/69, $]