Alright, Atlanta, you've got some 'splainin' to do. Schnell!
This is the second Mercedes pickup to hit the market in Atlanta--second of just two in the US, according to the dealer/seller on Autotrader. [Of course, this 2001 E-Class has only 8,600 one-owner miles or 11,000 and is either just $49,990 or just $39,990, so whatever skepticism is required to buy a used car, you'll need at least three times as much to shop for a used Mercedes E-Classamino.
Before when there was just one, we could write it off as a fluke, a crazy stunt by a kooky local peach rancher. But two, and the claim that "Only FEW Of Them Built By Mercedes !!!!!!!!!!!" well, this needs some looking into.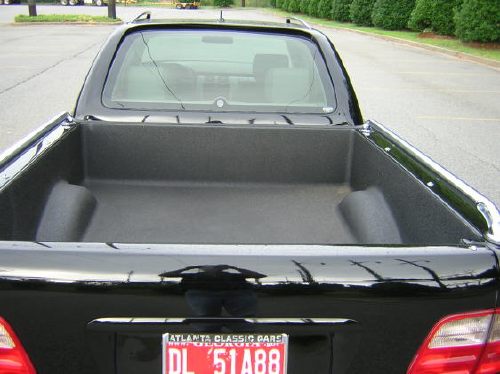 The VIN does check out against the seller's claim; this began life as a black, US-spec, E320 wagon, sold to "tourists," which could be a European pickup [heh] arranged by the local MB dealer [Atlanta Classic Cars, supposedly.]
But the "Built By Mercedes !!!!!!!!!"??????? Close, but not quite. Tucked away amidst all the vintage stretches and laundaulettes and shooting brake conversions on Al's Car Page is an identical white E-Class pickup [that makes three!] credited to the German coachbuilder Binz. Apparently, when Mercedes switched to the W210 E-Class, they stopped offering stretch versions, so Binz picked the model up. Binz does hearse, ambulance, and emergency conversions as well [the Binz UK site may be easier to navigate], and is probably the closest you can get to M-B factory conversion.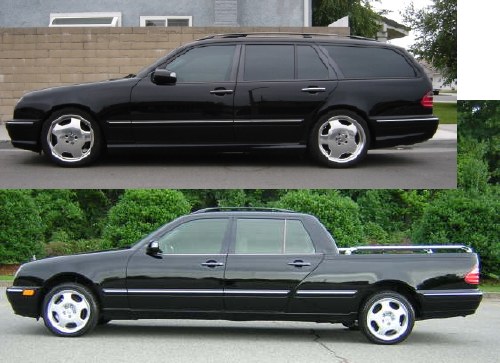 Which makes me imagine Binz picking up the US wagon; stretching it [compare it to the E55 above]; repurposing the original hatchback for the rear glass and hatch; adding little refinements like individual, power-adjustable rear seats in place of the original bench, and AMG Monoblock wheels; and then shipping it to the Atlanta dealer's crazy-rich customer. All for around $100,000, or a little more than twice the price of a stock wagon.
mystery solved update: JJ Daddy-o played me like a drum. There is no mystery about what this car is: it's a Binz E-Class Hearse without the campertop. Check out the profile in this video--and, uh, then check out the easy, hilarious drift. I would've expected slightly more somber background music:
This truck topless hearse looks nicer than the first one, from the wheels to the bed rail [which still looks like a Subaru Baja. Why can't they make it match the luggage rack?] But not $10-20,000 nicer. The one for sale in 2006 had just 16,000 miles [seriously, besides everyone, apparently, who pays $100,000 for a custom Mercedes pickup and then doesn't drive around showing it off every single waking second?] and had an asking price of just $30,000. If a custom truck cost twice as much new, it should probably cost twice as much used, and when they can be found, a pristine E320 with low-to-no miles can be had for $10-15k. Seems like you gotta get down on your range there a bit, cowboy.
"ONLY FEW WERE MADE": Used 2001 Mercedes-Benz E320 Pickup [autotrader.com via dt not-an-suv correspondent jj daddy-o]
AND HERE WAS ANOTHER ONE [2006]: MB Conversions: family cars for people with more money than sense
"REST WERE MADE BY GM IN AUSTRALIA": Holden Crewman: Australian For 'Sweet Cah'