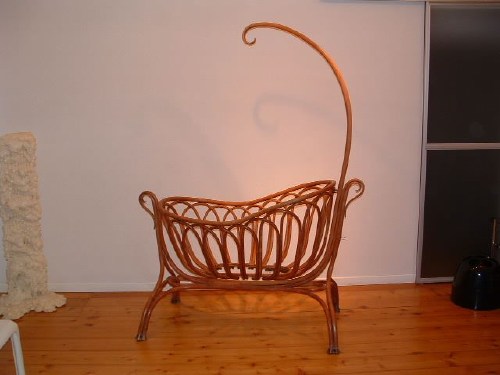 Wow, there's something you don't see turn up on eBay every day. Or ever. A vintage modernist furniture dealer in Bologna, Italy has an original c 1875 Thonet bassinet for sale. He's done a full restoration on it, including the original hardware, and is selling it unfinished. [I imagine/hope the thing was beat to hell and painted purple or something, so we shouldn't mourn the loss of the original finish.]
Anyway, I can't count the number of baby head-sized gaps in this thing, and whatever padding originally went into this is probably now in a History of SIDS exhibit somewhere, but still, pretty damn interesting.
HAHAHA, and for a second there, I thought it said $900 flat rate shipping to the US! Wait... looks like I better add the "illogical amounts of money for furniture" tag.
Original THONET bassinet on eBay, $3,960 Buy It Now or make offer [ebay via stork bites man]
7/5 update: hasn't sold yet, but it's been relisted at the same Buy It Now price.