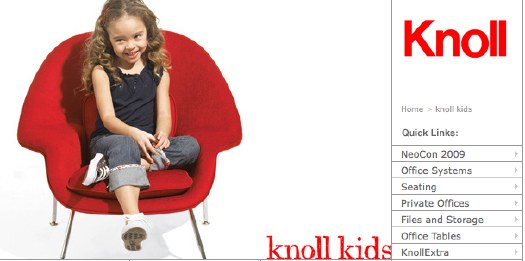 Oh, wait, we already knew about the kid-size Saarinen Womb chair. And the baby-size Womb chair. AND the mini-Mies Barcelona chair, which were part of Knoll's 2007 attempt to keep up with the Genius Joneses.
I guess that went pretty well, because Knoll just introduced knoll kids, a small collection of pint-sized versions of some of the company's classic furniture designs. There's Maya Lin's plastic stone stools, of which I am not really a fan, and Kazuhide Takahama's Suzanne Lounge chairs--oh, wait, those aren't any smaller than the originals, just obviously climbable. And the Saarinen and Jens Risom side tables don't really count as new, either, just puny. Still, the 75% scale Risom chairs are good, and compared to the upholstered pieces, they're practically free [aka, $200].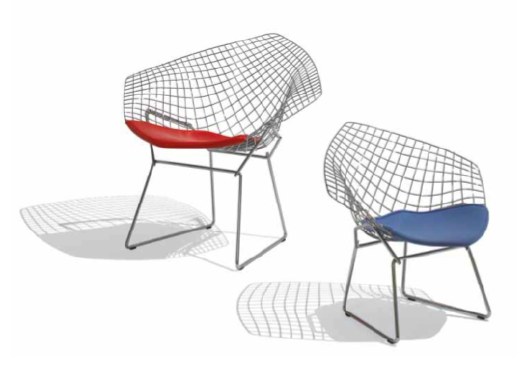 The highlight, though, is the kid-size Diamond Chair by Harry Bertoia. Knoll says it's 75% scale of the original, but it's only 24.5 inches wide, compared to 45-in. They used to offer a 33-in. wide model at one point--modernicus has a nice example from the 1950's--but this newer, smaller version is just adorable. Surprisingly, they haven't reissued the kid-sized Bertoia side chair. Go figure.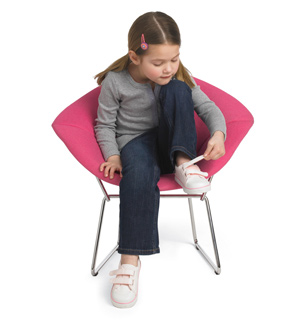 Now maybe I'll be able to realize my dream of creating my own kid-size, Campana Brothers-style stuffed animal chairs using Takashi Murakami plush toys and Ugly Dolls. I've been scouting high and low for a base chair that could work; Bertoia's Diamond chair was the right shape, and now it's the right size. If only it were the right price; $530 apiece is a lot to shell out for a wacky, experimental, three-way colabo knockoff.
knoll kids: live. learn. play. shell out a fortune. [knoll.com]