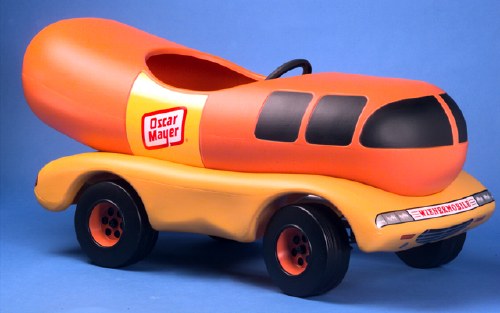 DT reader Katy sends along a photo of a cute kid in a wienermobile from flickr megapoweruser mattlogelin's photostream. And the obvious question is, "Where can I get one?"
Well, they turn up on craigslist and eBay. About 16,000 were made, and "Grocery stores in the U.S. and Canada distributed many of these pedal cars through special promotions and also sold a small number by mail order from June 1995 through May 1998. The cars were not available for purchase in retail stores." Said the CPSC in their 1998 recall notice.
I'm not sure if there's a way to tell if a Wienermobile still has its original, lead-contaminated decals, or if the company still offers replacements. You can probably be sure that this original, Mint In Box Wienermobile still has the toxic stickers on it, but at least they'll ship it.
If you want to avoid lead altogether, keep looking for the pre-1995 model, which has a different window configuration. This one, dated from 1992, is sold, but it gives you an idea.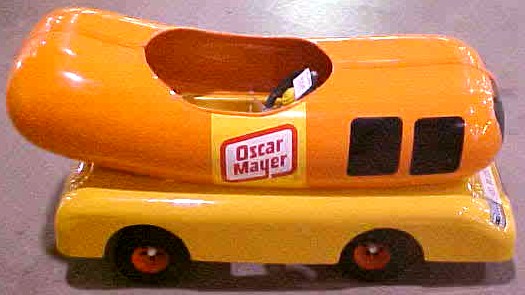 SOLD! Oscar Meyer Wienermobile Pedal Car, 1992 Model [brasslanternantiques.com]
CPSC, Oscar Mayer Announce Recall to Replace Decals on Pedal Cars Because of Lead Hazard [cpsc.gov]
1996 OSCAR MAYER WIENERMOBILE MINT IN BOX , $469.95 $85.95 S/H/INS [bellandnsons.com]