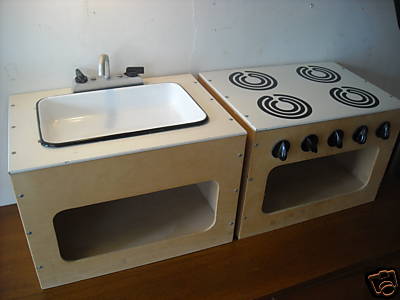 Just a sec, I need to update my list....
DT's Words I'll Never Hear Describing Vintage
Creative Playthings Play Kitchens list
Pristine
Mint
Immaculate
Never Been Played With
Free Shipping
OK, I'm back. And what better to do on a Sunday morning than to contemplate the Mystery of the Immaculate Play Kitchen that has miraculously appeared on eBay out of Pasadena?
Pilgrims will flock to bid, but the locals will have that $30 advantage if they can negotiate local pickup. But back to that mystery. how is it that this sink and stove have survived in such beautiful condition?
Were they at some grandma's house where the kids never visited?
Were they so small, the kids outgrew them before they even knew they were supposed to do with them? [They're only 11 inches high, barely the size of a microwave, not the larger cabinet-sized models that came later--and were played into the ground by generations of church basement nursery school denizens.]
Actually, 11 inches is pretty damn small. Maybe it's not such a mystery after all. Still, it'd be worth buying them just to have a clean version of that stove heating element graphic. That'd look sweet on a Onesie.
Vintage Creative Playthings Kitchen Stove&Sink eames, opening bid $10 + $30 s/h, auction ends June 12 [ebay]