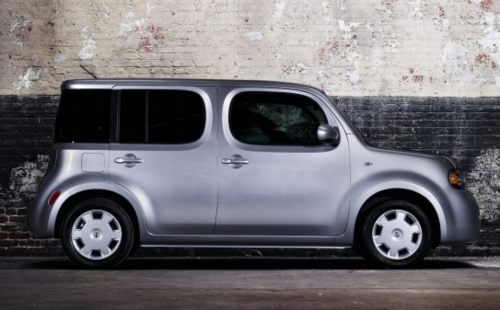 What's up, Nissan? Don't tell me you're gonna let a little global auto market collapse keep you from hyping the launch--finally!--of your insanely awesome, new Cube!
After catching one out of the corner of my eye while driving past a lot last week, I made a point--crazy, I know--of actually visiting a Nissan dealership to check the car out in person. The way the salesman pounced on me before I even turned off the car, I wondered if I should've brought him some canned goods. Or at least some news from the outside world.
The word I would've given him is Scion. The Cube strikes me as the true inheritor of the quirky, utilitarian, awesome, cheap mantle Toyota forfeited when it redesigned ruined the xB. It had plenty of interior room, lots of headroom, and adequate rear storage [adequate in this case means, "will hold a folded up Bugaboo."]
The Cube's only obvious weakness as a family ride is its limited carpoolability: there's only room for two car seats in back. Which is better than Honda's quirkmobile, the Element, which only has two rear seats at all, but worse than the tiny miracle of the xB, whose three-across rear bench makes it a veritable clown car for kids.
If you're in the Cube market, or if you've driven one--or bought one, or didn't buy one, even--I'd love to hear about your experience with it.