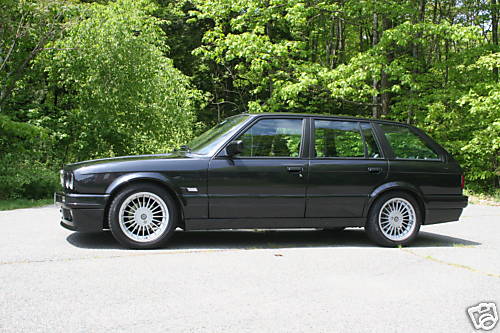 Though it's not rare anywhere else, the BMW E30 3-series station wagon was never imported to the US, so this 1991 6-cylinder Touring is a find. Loaded with $35,000 in restoration and tuner receipts, the seller says this little wagon is one of just 10-15 in the country, and that it was imported grey market--and titled in Massachusetts without being federalized. While the seller pays attention to every detail of every mod, I confess I actually can't figure out which inline-6 he has, whether it's a 323 or 325. Also:
Originally a german car the cluster was in KM. I found a used US cluster that was 250 mi MORE than the km one (when converted to Mi) I drove the car around with tools until the clusters matched and then swapped in the US cluster (photo documented) so it reads actual chassis mileage!
--and no A/C. Because who in Germany gets A/C? No one, that's who. $35,000, chassis-matched KM-to-MPH speedo conversion--and you'll be frying your ass off in your black barnstormer for the first four months after you take delivery.
1991 BMW E30 Touring, BIN for $25,500, hurry, only 18 hours to go! [ebaymotors via dt reader dt]
interesting update:: the secret wagon fans and restoration experts at Bring A Trailer have come out in force to talk about this car. Long story short: it's awesome, but probably hot in the summer.
update: after a couple of price drops and relists, this rig finally sold for $12,201 this week.