No need to lecture Phil or Ted on the impact indiscriminate graffiti can have on property values.
Costco.com has graffiti fabric-covered versions of the $489 P&T Sport Buggy with the doubles kit, plus the Lazy Ted bouncy chair conversion kit [a $55 value!] for just $300. Plus free shipping. That's Maclaren country.
The graffiti-covered Vibe has been similarly defaced, $489 down from $789. Costco non-members pay just 5% more.
First, Phil & Teds buys Mountain Buggy--which experimented with all kinds of Hawaiian print s as it was running itself into the ground--and now the graffiti P&T's are getting unloaded at a warehouse sale. New Zealand's Golden Age of Kooky Stroller Fabrics is drawing to a close. Which means great deals for everyone! Or everyone who's down widdat, I guess.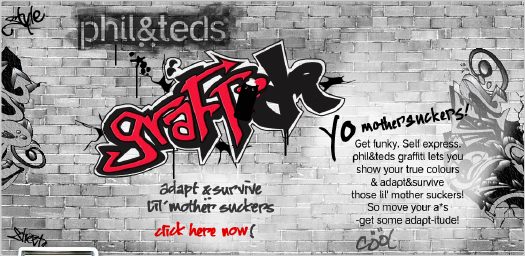 phil & teds Graffiti Sport and Graffiti Vibe at Costco.com [costco.com via dt reader eric]
Compare to P&T Graffiti strollers on Amazon, $469-589 [amazon]
image: Yo, mothersuckers! [philandteds.com/graffiti]