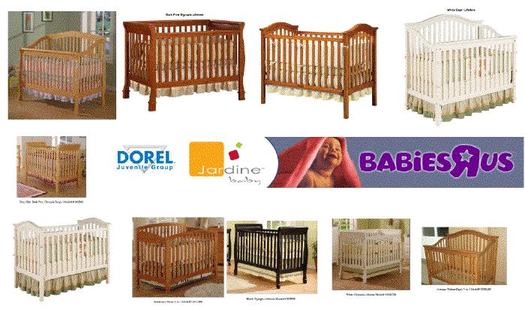 The CPSC added another 96,000 Jardine cribs to its existing recall yesterday, bringing the total to at least 472,450. Jardine is a brand name used exclusively at Babies R Us and Toys R Us to sell low-end cribs [mostly $150-300] manufactured by Dorel, one of the Baby Industrial Complex's biggest conglomerates.
The first giant Jardine recall was announced last summer. 320,000 units of 28 models manufactured and sold between 2002 and June 2008 were pulled after 42 reports of spindles and slats made of flimsy, low-density wood breaking, creating an entrapment hazard and causing several injuries.
In September 2008, Toys R Us announced its own crib safety standards, patterned on UK and Canadian testing, which dictate spindle strength, wood type and density, and joint and glue strength. [See the complete standards announcement here. Ironically, Dorel is a Canadian company. It manufactures its cribs in Taiwan, China, and Vietnam.]
Unfortunately for TRU's attempt to get ahead of the collapsing cheap-ass crib story, their new standards only apply to "cribs received by the company's third party testing facilities on or after October 1, 2008." And between TRU/BRU and Dorel, they still had enough of the Jardine breakaway-slat cribs on hand to generate two more recalls in 2009.
Those recalls cover another 150,000 cribs manufactured as recently as 2008 and sold as recently as April 2009. TRU temporarily pulled the Jardine cribs in May 2008, ahead of the recall, so it's possible--though no one is saying anything--that Dorel fixed the design and materials specs for the cribs as incident reports piled up. So it may be the case that Jardine cribs manufactured last summer--and certainly those manufactured after October 2008--don't have the same shitty wood, and may be completely strangulation-free. Always good things to look for when buying a crib.
But that still leaves the question of how safe are Jardine cribs that are already in use, but which haven't [yet?] been recalled. What percentage of all the Jardine cribs sold in the last few years does this rolling recall affect? Does Dorel decide which models to recall based on what is reported to break? Or is there a more proactive attempt to identify cribs made with components similar or identical to those involved in the incident reports?
In an attempt to map out the scope of the Jardine recall, I loaded all the model information and dates from the three CPSC announcements into a Google spreadsheet, then tried sorting them by model and mfr date. Without making some significant assumptions, though, it seems hard and/or probably useless to map it all out on a timeline. But one thing that concerns me is that the 2009 recalls do seem like they are filling in the original recall as well as extending it in time.
It's enough to make me want to hear which Jardine models Dorel and Babies R US haven't recalled yet--or else to just come clean and say, "You know what, that's all of 'em! But we're getting better, we promise!"
CPSC recall announcements for Jardine/Dorel/BRU cribs from June 2008, Jan. 2009, and April 2009 [cpsc.gov]
Safely tucked away from Dorel and BRU's corporate sites: Jardine Crib Recall Information [jardinecribrecall.com]
Previously: TRU imports Canadian crib safety standards