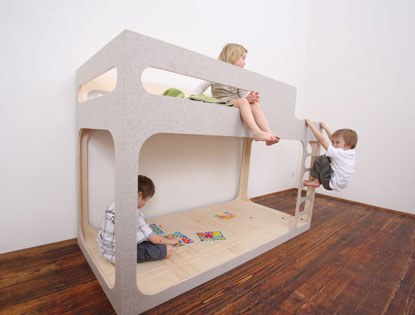 I'd lost track of Thomas Maitz's Amber In The Sky loft bed since first seeing the renderings in late 2007, but as Swiss Miss reports, the awesome bed is now in production and on sale, at least in Germany.
Maitz's Graz-based company, Perludi, sells Amber In The Sky [actually it's AMBERintheSKY], which they make of birch ply covered in loden fabric, in your choice of red, grey, brown, or orange.
It looks kind of awesome. And heavy and expensive, especially by the time you figure out how to ship one over here. Plus the EU-standard mattress. They use the metric system; they don't know what the *#$% a 4-in wider and shorter single mattresses is.
AMBERintheSKY loft bed from Perludi, EUR2100, in Germany [perludi.com via swiss-miss]