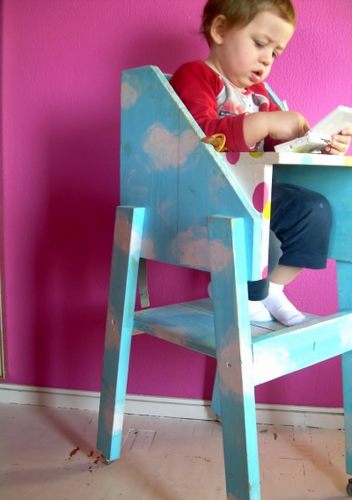 I've had this in my browser for weeks now, and I realized what was holding me back: I wanted to post just about everything in Atelier XT's 6,000+ flickr stream.
Graca Paz and her husband Francisco are artists living in Porto, Portugal with their three sons. Graca mostly paints and sews; Francisco, who is an architect, seems to mostly build. I say "seems," because most of Atelier XT's broad online presence is in Graca's voice.
And while I like her bold, thoughtful embrace of color, its really his forms that keep my eye. They collaborate on building furniture, including some really awesome kids' pieces. Francisco's shapes are simple and angular and made out of straight lumber. Then they get covered with Graca's riotous colors or fantastical paintings, and the effect is like Piet Hein Eek on the beach.
The angle on both that high chair and the cradle just rocks. There are whole photosets of other, similar designs [though the high chair was built for their own kid]. Most of the furniture photos are a couple of years old, so I don't know if they still make stuff, or if they just make it to order. I'm sure the CPSC's safety specifications have not been translated into Portuguese.
My favorite, though, is their kid's bunkbed, which looks like a cross between a chicken coop, a construction site, and an Enzo Mari retrospective. Francisco's furniture, and this bed in particular, capture the essence of Mari's autoprogettazione concept, and put it to work for kids.
Cherry on the Cake, Atelier XT's tumblr [atelierxt.tumblr.com]
Atelier XT's flickr stream [flickr]
handmade design author furniture photosets [flickr]
Atelier XT's main website, which was down when I wrote this [atelierxt.com]
Previously, 2006: Enzo Mari's autoprogettazione and the crib