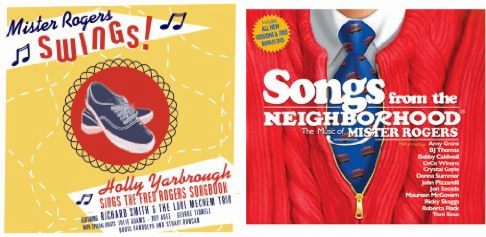 You probably have a dozen or so lodged in your brain, but Fred Rogers composed and wrote over 200 songs. I'd like to think some serious musical types are poring over them, looking for some material to arrange, record, and make their own. Because it appears that there's a group of people who will buy whatever Mister Rogers cover album comes along.
Like Holly Yarborough's Mister Rogers Swings!, released in 2008. I don't know if it's the music itself, the arrangements, the big band strait jacket, or Yarborough and her expressive range, but listening to all 16 track previews on Amazon left me flat. It reminded me of the Ink Spots Greatest Hits, where every song had the same, laconic moseyin' along intro as "Jumpin' Jive."
Yarborough fares better when she ditches the band for a piano, as on the slightly torch song-y "It's You I Like" and "There Are Many Ways To Say I Love You," but even there, she runs into the limits of her own instrument.
If Amazon's "people who bought this bought that" feature reveals anything about Rogers cover album buyers, it's that they're devoted. Or desperate. Or have no taste. Hmm, maybe it's best not to delve.
Songs From The Neighborhood: The Music of Mister Rogers was released in 2005 and earned both a heartfelt, grateful letter--as if there were any other kind--from Joanne Rogers, Fred's widow, and a Grammy nomination for Best Children's Album. Which is bogus, becuase the album's thick, wall-to-wall synthesizer organ carpeting is strictly "Adult Contemporary Pop." I was caught off guard by the 2005 date; from the participating artists--Jon Secada, Amy Grant, Ricky Skaggs, Roberta Flack, Crystal Gale, Toni Rose--I'd guessed it was done ten years earlier, if not fifteen.
Ironically, the best tracks are the swing/cabaret versions. Jon Pizzarelli gives "What Do You Do?" a nice punch [though I'm dying to hear who Rick Rubin would give this, the most aggressive song in Rogers' oeuvre, to] and Maureen McGovern brings sultry emotion to "This Is Just The Day." So if you're a fan with taste, you can buy individual MP3's and be done with it. And then if you'd get me Rick Rubin on the phone...
Buy or listen to samples of Mister Rogers Swings! by Holly Yarborough [amazon via boingboing]
Do the same with Songs From The Neighborhood: The Music of Mister Rogers [amazon]