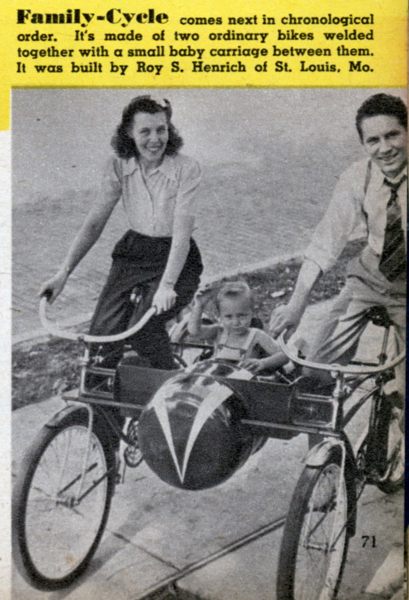 Found this awesome Family-Cycle in a story titled "Eccentric Cycles," which ran in the September 1949 issue of Mechanix Illustrated magazine. It was right under the French guy who strapped a 56-pound, four-tube radio to his bike so he could "listen to favorite programs."
It says that Roy S. Henrich of St. Louis simply welded "a small baby carriage" between two ordinary bikes, but to me, that thing looks like a torpedo casing, or at least a hanging car from a ride in a scary traveling carnival.
If you could figure out the steering, this thing could really have some potential. Or not, given the complete lack of mentions in the ensuing 60 years.
Eccentric Cycles, Mech. Ill, sept 49 [modernmechanix.com]