Those Dutch, always with the greedy, unilateral attacks on the Portuguese Indies.
In the 17th Century, it was the Dutch East Indies Company seeking to wrest control of lucrative spice trading routes in Asia that were controlled by the Portuguese Empire, which was at the time aligned with Spain, who was waging the 80 Years War against The Netherlands.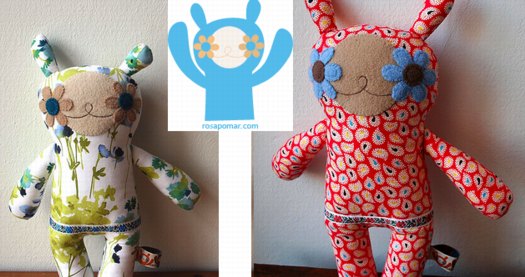 Now in the 21st Century, Oilily, the leading global purveyor of the pattern-on-pattern Haute Moppet look, has raided Portugal's most famous indie plush artist and made off with her trademark product.
First slide, please: Oilily's Spring/Summer 2009 collection includes a flatout knockoff of Rosa Pomar's signature flower-eyed bunny [above], which she's been making--and selling, and garnering significant design press for--for several years now.
The bunny appears in a girl's layette gift set from the newborn Supersoft Collection, product no.103394-3005 [below]. It's also incorporated into the newborn colection's labels and packaging. To this somewhat trained eye, it looks like a straight up rip-off of Pomar's design.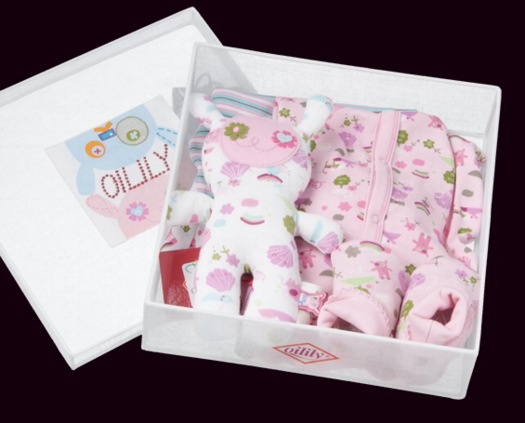 The boy's Supersoft layette, product no. 103444-6405, has a dog that's similar-looking, but with a different face/eye treatment from Pomar's non-bunny products [her main other animal is a monkey, not a dog, and her non-flower eyes are just tiny dots, not big, Petey-from-Little Rascals-style asymmetrical circles.]
The irony, of course, is that if Oilily'd just asked, I'm sure Pomar would have gladly made an exclusive version for them. After all, she did it in 2007 for Nurseryworks, creating a series of bunnies using the company's own fabric pattern, which were exhibited widely, but which were only available through Nurseryworks' website.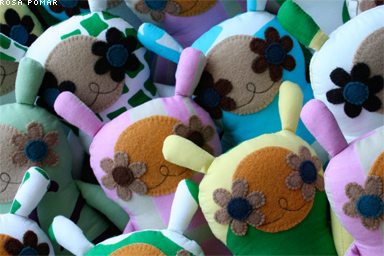 I've contacted Oilily's creative director Liam Maher in the corporate office in Amsterdam to see what they have to say. Stay tuned.
Check out actual Rosa Pomar dolls at her online store [aervilhacorderosa.com, via rosa herself]
Previously: Nurseryworks-exclusive Rosa Pomars at the 2007 International Gift Fair [daddytypes]
Oillily s/s09 girls Supersoft layette [oilily.nl, the source of the images above]