The specific arguments Hanna Rosin makes in her new Atlantic Magazine piece, "The Case Against Breast-feeding," are as follows:


The increasingly strident culture of breastfeeding activism culture misuses science to induce guilt among upscale, "overachieving" mothers.


The claims of scientifically proven health and developmental benefits of breastfeeding--or more precisely, for breast milk--are greatly overstated, in large part because most of the research of breastfeeding's impact uses inherently imprecise observational and statistical correlation methodologies.


Though third-generation feminist lactivists pitch it as liberating and self-fulfilling, breastfeeding's biological determinism and work-incompatibility freeze out dads' and condemn a woman to default sole caregivership.
Which doesn't amount to a "case against" anything, really, except for well-intentioned but under-informed activism and shoddy, sensationalistic science reporting. Unfortunately for Ms. Rosin, the strongest case against freakout parenting journalism is her own hysteria-soaked article.
Rosin starts off an argument about dubious scientific credibility with her own wildly unscientific datapoint of one: she began baiting the "urban moms in their tight jeans and oversize sunglasses" in her "playground set" by claiming she was considering giving up breastfeeding after just a month, and then waited for "icy politeness" to descend as the horrified organicists shunted her into "the class of mom who, in a pinch, might feed her baby mashed-up Chicken McNuggets."
While Rosin may, in fact, be a lovely woman and an endearing parent, on the page she comes across as an over-dramatic, kvetchy, slightly unhinged crank who makes offhand wishes of violence upon those who disagree with her ["...you know what you can do with this damned fork." "This is why, when people say that breast-feeding is 'free,' I want to hit them with a two-by-four."]
When Rosin asked rhetorically, "So how is it that every mother I know has become a breast-feeding fascist?" at the end of the first page, I worried that even with a nice Israeli girl talking about feeding her children, Godwin's Law would be proved correct yet again. Sure enough. Rosin held out until the fourth from the last paragraph, when she described a mom using a breast pump as looking like "a footnote from the Josef Mengele years."
So yes, maybe her breezy ambivalence makes her unpopular in playground discussions of breastfeeding, or maybe it's, you know, something else.
While by Internet rules, Rosin's Nazi reference means she'd automatically lose on a technicality, it's worth pointing out that she cites very few actual examples of how breastfeeding advocates distort or misrepresent scientific research findings; instead, she focuses almost exclusively on how these evil lactivists make Mothers feel--and by Mothers, I mean Rosin herself, since there are no quotes from any other moms, not even from her friend the breastpumping Mengele victim, who was sitting on her sofa.
Rosin is certainly right that the findings of breastfeeding researchers are far less definitive and significant than the straw woman exaggerations she puts forward. But that's the result of the language and interpretive gap between scientists and health policy makers, between doctors and publicists, between the medical community and journalists--and between all these professionals and new parents. Rosin pretty much ignores these distinctions; instead she freaks out and treats every careful qualification of every research result as a personal betrayal of the promise of unwavering certainty that Science apparently made to her.
In at least one case Rosin seems to have cherrypicked and exaggerated a negative result of a breastfeeding study, while ignoring the major, positive finding. Scientists are frank to acknowledge that the research isn't yet conclusive on whether all the seeming benefits of breastfeeding come from breast milk directly, or from breastfeeding as a practice, or from the family environment in which breastfeeding is a priority. Rosin described a 2005 study designed to eliminate sample bias by studing differences between breastfed and bottlefed sibling pairs:
The economists Eirik Evenhouse and Siobhan Reilly compared rates of diabetes, asthma, and allergies; childhood weight; various measures of mother-child bonding; and levels of intelligence. Almost all the differences turned out to be statistically insignificant. For the most part, the "long-term effects of breast feeding have been overstated," they wrote.
Actually, what they wrote was, "Our results also suggest, however, that many of the other long-term effects of breastfeeding have been overstated." This is attributed, they said, to selection bias in nonexperimental studies. As if in anticipation of an overstatement of their results by a journalist, the next paragraph begins, "The applicability of our results should not be overstated."
I would add that the key element of their results should not be completely ignored. Here's Evenhouse and Reilly's stated conclusion: "This study provides persuasive evidence of a causal connection between breastfeeding and intelligence." Rosin mentioned other studies linking breastfeeding and cognitive development, but she promptly dismissed them as irrelevant, since intelligence is too amorphous to be properly studied anyway.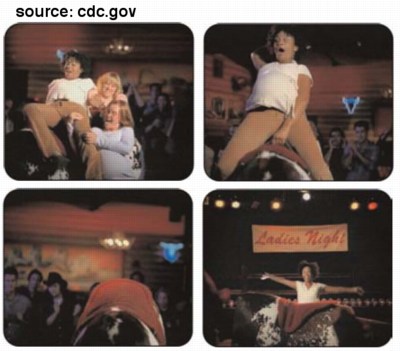 Even when Rosin is partially right, it's hard to actually agree with her. She correctly called out a 2004 DHHS breastfeeding awareness campaign for using alarming, simplistic imagery--a pregnant mom on a mechanical bull was the silliest--to imply that not only is breastfeeding good, not breastfeeding is dangerous. But she also ignored the chorus of criticism when the campaign's existence was first reported in 2006. [Q: Does an awareness campaign that no one's aware of until a year after it's over make a sound?]
The traditional model of breastfeeding is obviously complicated by work, gender roles, health, and myriad cultural expectations, but Rosin barely touches on this complexity, except to bemoan the worst-case scenarios women in her upscale demographic niche face. She rightly points out that lower-wage working moms have an even harder--i.e., impossible--time of integrating work and nursing or pumping. But thanks to her self-absorbed focus on imaginary women like herself, Rosin ignores or dismisses as historical anomaly the persistent differences of breastfeeding vs formula in different cultural groups, as well as the formula companies' concerted international efforts to supplant, not supplement breastfeeding.
There is not even a mention of the formula companies' involvement with WIC, for example, which might tip the scales against breastfeeding among poorer women; manufacturers negotiate state-by-state monopolies to provide free formula to low-income mothers, which reduces effective incentives to breastfeed almost to zero, and which makes state governments the biggest formula buyers in the US market.
And I can't believe how depressing her view of the threat breastfeeding poses to co-equal parenting and involved dads:
I recalled her with sisterly love a few months ago, at three in the morning, when I was propped up in bed for the second time that night with my new baby (note the my). My husband acknowledged the ripple in the nighttime peace with a grunt, and that's about it. And why should he do more? There's no use in both of us being a wreck in the morning. Nonetheless, it's hard not to seethe.
Why should he do more? Because you're a seething wreck, and he's a father of three. Throw an elbow and hand him a bottle, dammit. Whether it has breast milk or formula in it is really beside the point.
On the bright side: Uma!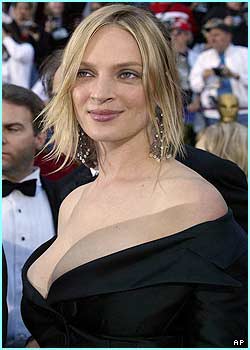 The Case Against Breast-Feeding [theatlantic.com]
Previously, 2006, though now I realize it's OWH, not WHO: WHO: Show us you're breastfeeding!
2004: Be down with EBB: Everything But Breastfeeding