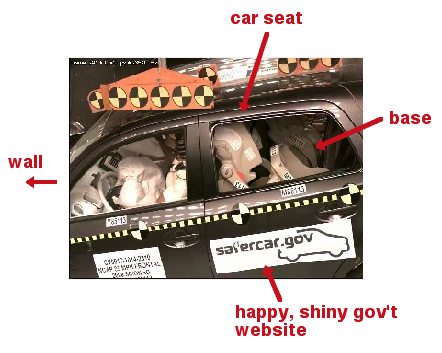 I'd say I hope you're sitting down when you read this, but there's probably an unpublished NHTSA crash test that shows your seat's a dangerous flying projectile, too.
An investigation by the nation's de facto consumer safety authority, the Chicago Tribune, found undisclosed government data that showed when they were subjected to actual car crash tests, otherwise-safety-certified infant car seats would often go flying and cause severe injuries not only to the baby dummy, but also to other passengers in the car.
As you may know--or probably not--car seats are not actually tested in cars, but on a crash sled. Over the years, researchers have clearly identified many ways in which the test and reality diverge: no side impact tests, no front seat for the car seat to slam into, etc.
But the car seat manufacturers consistently fight any attempts to strengthen safety standards by, say, testing car seats the way they test cars: in actual crashes. They say it'd be too confusing and expensive to certify car seats for specific models of car; better to have a single, universal standard. Yeah, well.
But as it also turns out, vehicle safety ratings do not take car seats--or any rear seat safety measures, for that matter--into account at all. The Tribune found 5-star safety-rated minivans, for example, where the rear seats would separate and sent a car seat flying. But it's OK; they weren't being tested on it.
Definitely read the Tribune story for the details about which models of car seats and cars did not fare so well, and to find out which company's general counsel rejected all the test results as "worthless" [hint: Graco], and which company was so shocked when they first learned of the tests in 2007, they switched to Canadian crash testing for their US car seats [hint: Combi].
Car seat tests reveal 'flaws' [chicagotribune.com via dt reader gfr]