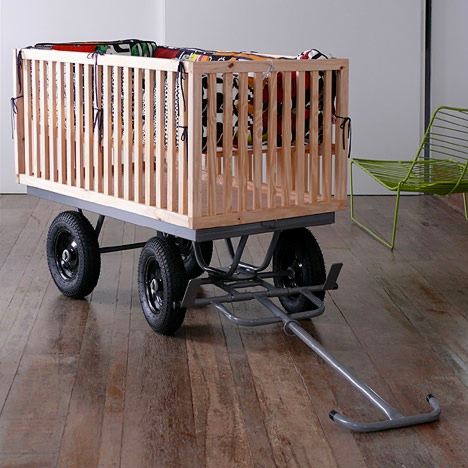 Check out this spectacular crib, headsmacking for both its "why didn't I think of that?" practical ingenuity, and "what were they thinking?" name.
The Staypuff Crib is a managed forest pine crib built on top of a utility wagon. It's awesome, but also an unusual calling card for a firm, 20.87 Design Studio, of Sao Paulo, whose only other identifiable creation is a single, content-free Flash animation.
The catch, of course, is that just because they're both used in places called nurseries, cribs and carts don't share standard dimensions. So you'll be hard pressed to find a mattress that fits as snugly as safety regulations prescribe.
Still, it's probably easier to get a 30x48 mattress made than a 52x27.5 cart. Have at it, and send specs and pictures!
Staypuff Crib by 20.87 Design Studio [mocoloco]
Is there a hidden message in the Flash? I don't care enough to find out. [2087.tv]
12 pages of search results for "cart" [northerntool.com]