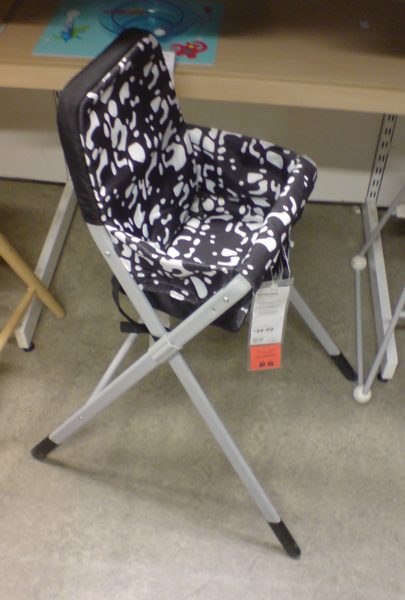 We made a ginger wafer run to Ikea this afternoon, and while the kid was playing in the ball pit, K2 and I went to check out... the newest additions to the children's furniture collection, which turns out to be inspired by the luggage rack at a Best Western.
Spoling is a series of kids' furniture with removable black & white nylon fabric over a spring-loaded, folding metal frame. Right now there's a high chair and a changing table. They look really flimsy, especially for the price. But they feel relatively solid when you press down on them, and fold like a pair of threes, jack high, when you lift up. It's the way the springs are attached, I guess,
Maybe they grow on you, or the sheer practicality and space-saving features are too blissful to pass up, but I'm not feeling it. The Antilop still seems like a better high chair at half the price. And I know it's old and looks hopelessly like Ikea, but that solid pine Trofast changing table top is being cleared out for just ten bucks!. I almost bought one on principle.
First Brio, now this. I wish someone'd tell me when it's Swedish Buzzkill Week around here.
Spoling Changing Table, $70 [ikea.com]
Spoling High Chair, $40 [ikea.com]