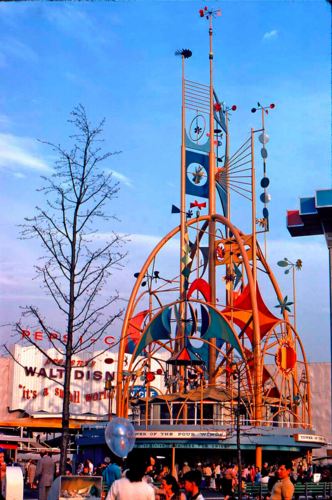 A couple of years ago, when I posted about the Solar Do-Nothing Machine, created in 1957 for Alcoa by Ray and Charles Eames, I mentioned that though the single prototype didn't survive, its spirit lived on in the facade of It's A Small World.
Little did I know. While surfing around for a picture of the original Small World ride when it was the Pepsi Pavilion at the 1964 New York World's Fair and called by its full name, "It's a Small World - A Salute to UNICEF," I found the Tower of The Four Winds.
Disney imagineer Rolly Crump created this 120-ft kinetic sculpture, which graced the entrance to the Pepsi/Disney/UNICEF pavilion. Up top, Crump discusses the model with Walt himself in a 1964 promo TV show, "Disney Goes To The World's Fair". [Mice Age has tons of stills, which show the original IASW characters in vivid Technicolor.] That maquette looks like it could poke out a whole schoolbusful of eyes, but it's still awesome enough to keep me watching the dumpsters in Glendale, just in case Disney does some mousecleaning.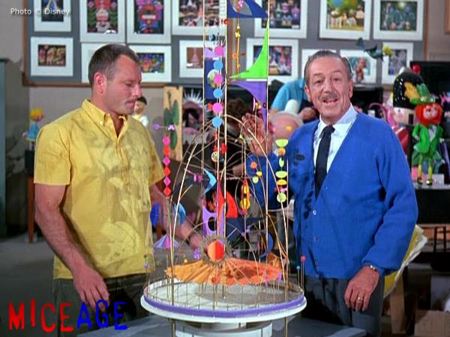 top image: Tower of the Four Winds, 1964 [gorillasdontblog]
A different look at Disney... [miceage]
Previously: Eames Solar Do-Nothing Toy Does Nothing--And Very Well