I suppose I could write about how, now that K2 realizes we pick the food up from the floor and put it back on her tray, she's started refusing to eat in her chair, and would rather get down and eat the food straight off the floor, thank you very much.
But the intoxicating lure of 1940's-era nurseries as documented by LIFE Magazine is too strong. Just. One. More. Celebration. of the. Greatest. Generation...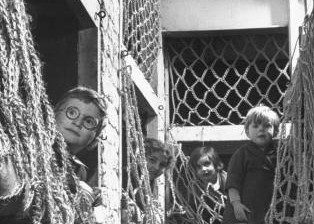 The Generation of British mothers, for example, who would drop their kids off at nurseries while they went to work in factories or other aspects of the war effort while the menfolk were off fighting. Nurseries which, thanks to German rockets and air raids, kept kids underground for so long, their bomb shelters had bunk beds--whoa, did someone hand-weave all that safety netting?--and sun lamps to keep their vitamin D levels up. Nice goggles.
And the Generation who generated photos with such awesome captions as, "Girl handling jigsaw in workshop at nursery."
Search LIFE Magazine's archives for Hans Wild's 1944 British nursery photos [life]