"Hi. I'm Dallas Clayton. This is my place. You're obviously here because you want to know more about me. I wrote a book. It's called, An Awesome Book. It's awesome. It's better than any book that's ever...existed. I don't know if I mentioned that. Uh, the Bible...then, I think, then this. Dostoevsky. Tolstoy. Melville. They're all dead."
Thus begins artist/poet/dreamer/dad Dallas Clayton's video pitch for his first children's book, An Awesome Book. As befits a book about the importance of dreaming big, Clayton's book's launch party/reading at the LA indie bookshop Family was hosted by Bjork and Matthew Barney and sponsored by Artforum, Mercedes Benz, and LACMA. If I close my eyes, I can see them all there right now, in fact, wiping away an unexpected tear as they realize how much more there is to dream of than just matching silverware.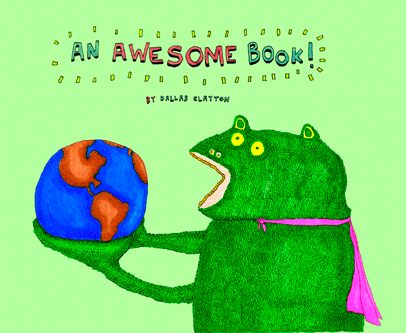 Let me say I had to fight my East Coast/West Side reflexes to find out, but An Awesome Book is, in fact, pretty awesome. The order page says, with harmlessly awesome misspelling intact, that the book was "[w]ritten in the vain of classic tales by Dr. Suess, Shel Silverstein, and Maurice Sendak."
Which is funny, because all three of those guys are as dark and moody as Clayton is not. The books that come immediately to my mind, Suess's Oh, The Places You'll Go and Silverstein's The Giving Tree are relentless and depressingly cynical, respectively. And of course, Sendak's entire oeuvre is permeated by the harsh realities of children in an adult world.

Even as he dreams archetypically superficial LA dreams of wealth and fame, though, An Awesome Book calls on kids and kidults alike to reach back and nurture their most fantastical dreams of, say, watermelon boats and musical babboons.

It's the poignant paradox of his own experience as an artist and a dad, and in his own tender man-boyish way, Clayton could very well be the posterbard of his Silver Lake generation. Consider the evidence: