If blogs didn't exist, sociologists would invent them. Or more likely, they'd just complain to each other about the unjust slowness of traditional publishing. As it is, they are able to publish eleven--count'em, eleven--fun-to-read blogs at Contexts, a [the?] magazine for sociologists who see their job as being perpetually disturbed by things, and then explaining why.
For example, there's this a double whammy prejudicing corporate male power at the expense of both women and workers, or middle management, but whatever:
I found these three ads for a private jet service in those magazines for excrutiatingly [sic] rich people that I've been posting from lately. Each ad-one for Marquis Jet and two for Delta AirElite-are pitching their service by suggesting that having a membership in their private jet service will help them be a good Dad because they can get home-for dinner, the game, or some quality time-from anywhere fast.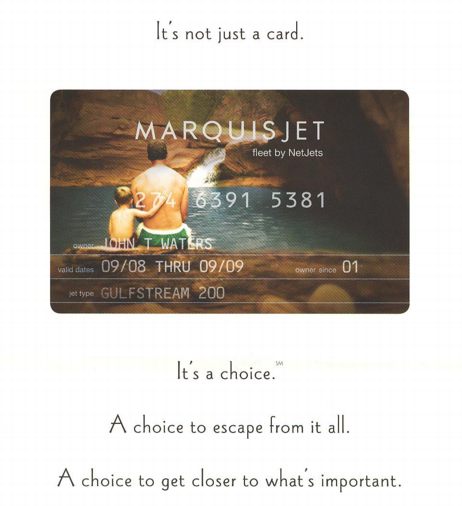 I'd argue that the fires of moral outrage they stoke in the breasts of starving doctoral students are probably the least insightful thing about these ads. There's a lot of huffing about how only the richest dad is able to spend time with his kids. But that ignores the reality that both Marquis and AirElite are the private jet market's entry-level offerings, which target people who are not wealthy enough to afford their own plane, and who in fact are still working in jobs that require extensive travel. They're most likely self-employed, too, with no access to accountability-free corporate jets, and the implicit alternative to private jet travel is flying commercial, with all the stress and surrender of control and scheduling that entails. More than any other private jet, in fact, these services are for people who "need" them. Which makes the pitch about "choice" and being able to attend a kid's birthday party [never mind plan or actually participate in it] all the more ironic.
Considering that this post was written just a few days ago, it somehow bears no trace of awareness that these types of private flyers are probably the most vulnerable to the current economic turmoil. I suspect there are a lot of one-time Marquis Jet Card buyers who are suddenly finding they have a lot more time to spend with the family now.
THE PRIVILEGE OF BEING AN UPPER-CLASS DAD [sociological images]
Previously: Experts help parents, children manage The Private Jet Question
Flying private: Think of the children;