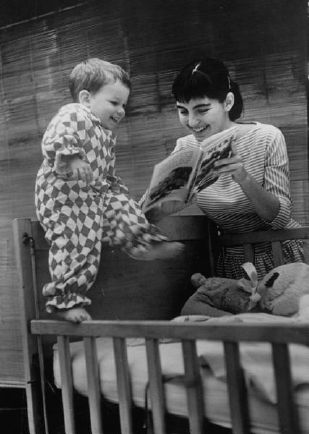 Here's a short thematic post from the archives of Life featuring some of the cribs of our parents' generation which serves as a roundabout tribute to the CPSC:
I'm guessing that after Leonard Mccombe's 1957 photo of "Babysitter Judy Fuss" was published, Miss Fuss found another career, one that involved fewer kids perched on one foot on the edges of their cribs.
In 1951, W. Eugene Smith shot a photo essay of the South Carolina midwife who presciently counseled her rural patients that a baby sleeping in a bed with other, larger children was at greater risk of suffocation. Safer to make a cradle out of a crate and let the bedding dangle into the stove. It was July, people!
Small BabyTender world! Was John Gray of Sea Cliff, LI the biggest Skinner Box mediawhore of the postwar era or what? Just a few months ago, magazine photos surfaced from March 1947 of Gray and newborn son, John Jr., in his homemade, B.F. Skinner-inspired babybox. Al Fenn's photos for Life are dated November 1947, and sure enough, little Johnny's doing fine. But now I wonder just how homemade Gray's BabyTender actually was. Did WWII really leave everyone with metal fabrication expertise and a garageful of surplus equipment?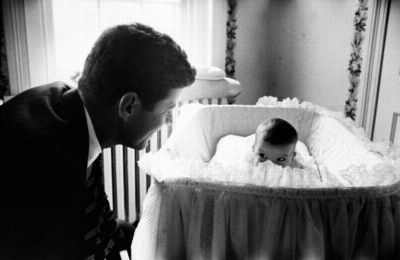 And last, an awesome little photo from 1958 by Ed Clark. The official caption: "Sen. John F. Kennedy (L) playing peek-a-boo with his daughter Caroline in her crib." Yes, that's the senator on the left. Clark was one of Life's most celebrated photographers; I wonder whatever could have been on Kennedy's mind when he invited him into his newborn's nursery.
Hmm, according to this Camelot tour guide, JFK bought the house on N Street for Jackie to celebrate Caroline's birth. Kind of puts the whole push present idea into perspective, now, doesn't it?