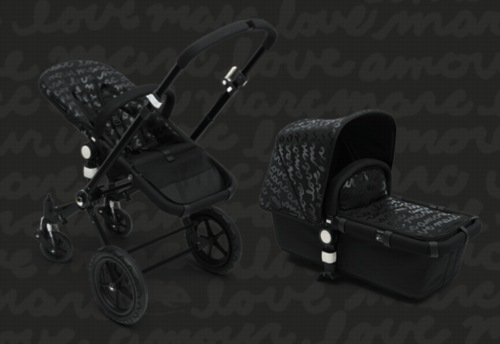 Well that's something. I just got a press release about the Marc Jacobs for Bugaboo. It's a special all-black Cameleon with a canopy and bassinet cover out of Little Marc signature fabric. To be honest, though I'm not a fan of printed fabric, ever since the all-white Bugaboo By, I have wanted to see what a black-frame Bugaboo would look like. I've even thought of taking ours to get an anodized finish, just for kicks.
The Marc Jacobs Bugaboo is not the Bugaboo you're looking for. It's the one you can't get.
There are 15 of them. Starting Nov. 26th, four will be at Colette in Paris; Selfridge's and London and the Marc Jacobs boutique in Dubai get two apiece; One will be for sale in Amsterdam. And six will be for sale at Marc Jacobs NY. Which has to be a trick, because there are six Marc Jacobs stores on Bleecker St alone.
Assuming you can get one, the Marc Jacobs x Bugaboo will set you back $1,500. [via bugaboo pr]
Previously, Jacobs had some problems with the colabo thing: Little Marc box at Colette is a desperate cry for help