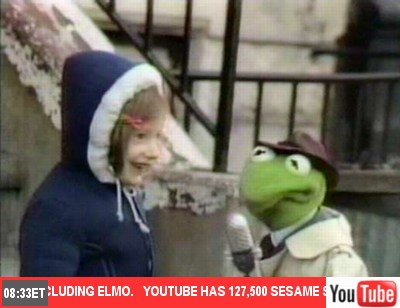 Hi-ho, Kermit the Frog here: Sesame Workshop announced that clips from Sesame Street will be uploaded to YouTube.
Seriously.
While you're processing that stunning development, they also announced that clips would be available on NBC's YouTube competitor Hulu.com. And that complete episodes would be sold via iTunes for $1.99/each.
But that vintage episodes would be unavailable "because Sesame Workshop and DVD distributor Genius Products are anxious not to gut sales of the first 10 seasons of the show, which are available on disc," explained Sesame VP of distribution Terry Fitzgerald. So only episodes from season 35 on will be sold. Season 35 is 2004. [Seasons 30-32 air twice a day on Sprout.] Which all means that Kermit the Frog is not here, since he only appeared on the Street for three seasons.
Hulu, YouTube, iTunes take a walk on Sesame Street [reuters, img: muppet wiki]
Uh, actually Sesame Street has had a YouTube channel for two years [youtube.com/sesamestreet]