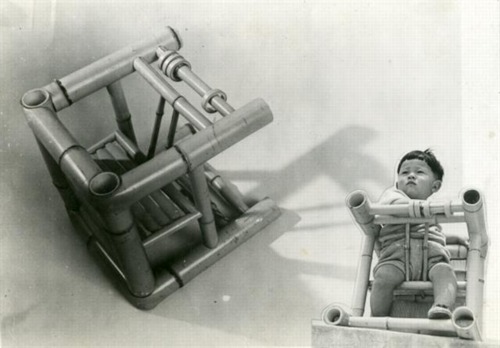 Just sit right back and you'll hear a tale,
A tale of a shopping trip
Involving Euro Modernists
and architects--so hip.
The greatest: Charlotte Perriand,
Designed Corb's furniture.
Bruno Taut also sailed that way
For an East Asian tour, an East Asian tour.
The Japanese had gotten tough,
And East Asia was toast.
PR hailed "Co-Prosperity"
But Nippon controlled the most, Nippon controlled the most.
The Mods set ground, searching for some merch that fit their sleek, Mod style.
They liked mingei
It's folk art: pure,
Anonymous, and bamboo.
The orators,
Kawai Kanjiro, Yanagi
hyped it all the while.
See, here's the thing about bamboo crafts,
Done on Kawai's dime.
The colonies made the best of things,
Chunky and sublime.
His imported craftsmen from Taiwan
Would do their very best,
Making furniture to Kawai's specs
for an export market test.
This stool! It flips! To a high chair!
Singular utility!
Perriand fell in love with it,
And took it à Paris.
You can visit it this week, my friends,
Charlotte's mingei shopping spree
Is on display until '09 at
Musée du quai Branly.
L'esprit Mingei au Japon : de l'artisanat populaire au design, through 11 Jan. 09 [quaibranly.fr, thanks dt reader gilles]