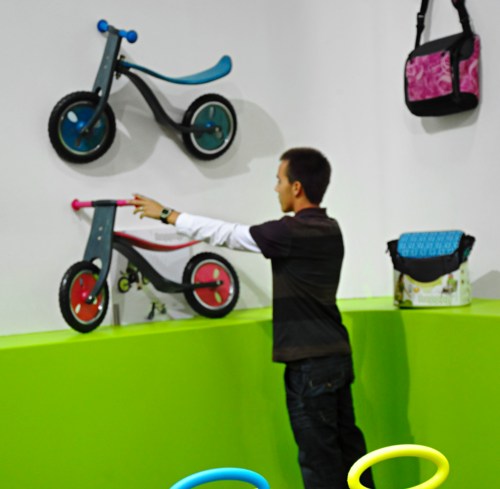 Why, yes, yes it is.
Hoppop is a Belgian outfit founded by baby footprint art mogul Christophe Verlinden, which came to the Kind+Jugend expo last year with the Hoppop Original, a hardcase diaper bag that converts into a booster seat. At this year's K+J, Hoppop set its sights on the vast, lime- and fuschia-colored plastic kid doodad market: bath stuff, meal stuff, giant art nouveau changing table stuff, some random tractor.
But then there's the real eyecatcher: the Motta, which works like a typical Like-a-Bike-style walkbike, but which looks like it got lost on the way to the X-Games. The whole thing is made out of dense plastic, and that flying seat, which looks like a motocross bike or a bicycle fender, is only attached at the head tube. So it has some bounce to it.
Don't worry about your little dumpling breaking it, though; it's supposedly lasts from age 2-6, and is weight-tested to 25 kg. Though forget a 6-yo; I can't imagine a 4-yo wanting to ride a 2-year-old's bike. That's for little kids. Also, the seat doesn't adjust.
Fortunately, the Motta also comes in blue.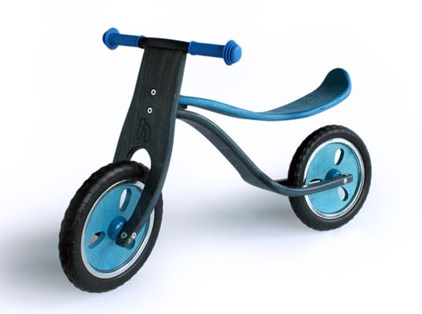 check out Hoppop's unlinkable flash site [hoppop.eu]
Try to buy a Hoppop Motta walkbike from Switzerland, CHF169, about USD145 [paysdesjouets.ch]