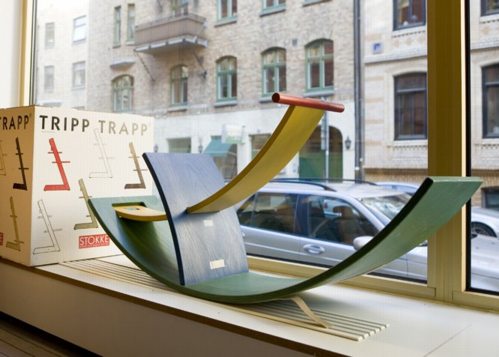 Well, the wilds of Sweden, anyway.
I've seen exactly one of these awesome Stokke Hippo rocking toys before, in a baby store in Reykjavik, Iceland. I'm sure that one's since been chopped up for firewood, but artist/blogger Elisabeth came across one recently, in a beautiful blue finish, in the window of a Stockholm Gothenburg kids shop:
I could get this Stokke rocking chair cheap he said. It was the only one left, and they don´t produce them anymore. But we don´t plan to have any more kids.... or?
Or you could buy it and ship it to me, hello!!
Now I need to work my Stokke contacts and see what the story is/was on this rocking beauty.
update: Not extinct, just German. DT commenter Hapa points out the Hippo is still available in the UK, where the retailer Baby 2 Child describes it as "The Hippo, formerly known as the Stokke Hippo." It's designed and made by a German company called ergo:design, at least according to a Daddy Types post from 2006. Oy.
fine little day | thoughts [finelittleday via referencelibrary]
Previously: Stokke Stokke Hippo