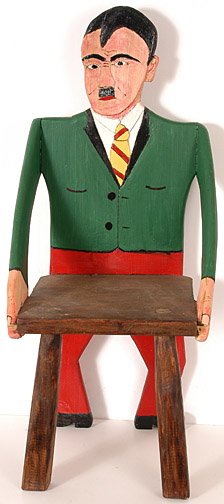 Yeah, his Hitler chair is probably from Wal-Mart, made outta plastic. It ain't handcarved and handpainted by Dow Pugh. Why, he's the finest children's Hitler chairmaker in all a Cumberland County.
Lot 656: Dow Pugh, Hitler Child's Chair, est. $300-500, sold $250 at Slotin Folk Art auction, April 2008 [liveauctioneers.com]
Previously: uhh, plush naked Hitler doll??