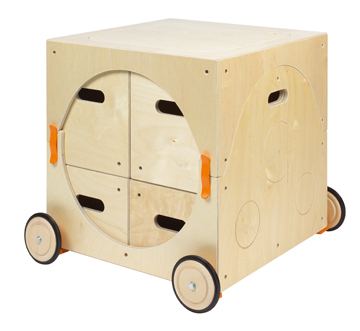 Looking at the traditional-to-slightly-boring children's furniture designs on the German wood furniture firm Zwergraum, I would never have imagined they'd come up with something as awesome as the Cubi-Q.
With four boxes, two table-like pieces, cutouts, and optional wheels, the Cubi-Q is an entire roomful of play furniture, all contained in a 50cm birch ply cube.
It's the coolest bit of plywood make-your-own-fun I've seen since Stephan Gip's Fun On Wheels, the build-your-own-car-or-whatever masterpiece of 1962.
Zwergraum designers Birte and Florian Degenhardt created the Cubi-Q for their daughter [or as Google Translate calls her, their "subsidiary."] Their philosophy might sound refreshingly familiar: "Less is more. Less toys, less color, fewer materials, less decorations."
Unfortunately, especially for USD customers, it is not less money. A basic Cubi-Q costs EUR399, and wheels are EUR45/set. There are a few other accessories, too, which you might as well get, because hey, your credit card company will probably declare bankruptcy before you do, right?
Cubi-Q das Möbel zum Spielen [cubi-q.de via minor details]
Previously: "Fun on Wheels" by Stephan Gip: furniture in disguise